Streamline™ X struts its stuff in Southern Africa
Streamline™ X is the toughest thin wall dripline ever made - we checked. Read about it's local manufacturing, its benefits fro vegetable production, feedback from the fiel, and trial results.
The irrigation industry is seeing a global phenomenon that farmers are shifting to increased use of thin wall driplines. Netafim prioritises the needs of our end-users and it is therefore important for us to adapt to market trends in order to supply the industry with what it needs in the field. Enter Streamline™ X".
Netafim South Africa is mostly known for its premium heavy wall driplines, but we have always focused on helping any farmer in any circumstances grow more with less. By supplying quality thin wall, medium wall and heavy wall driplines with ranging dripper features and capabilities, as well as our wider range of precision irrigation solutions, we know that we can help any famer overcome challenges in the field.
LOCAL PRODUCTION
In January this year, Netafim South Africa announced that the first roll of locally produced Streamline™ X thin wall dripline was extruded at its Cape Town dripline manufacturing plant. Read more here.
FEEDBACK ABOUT STREAMLINE™ X FROM A LOCAL FARMER
After the successful Netafim Streamline™ X trail on his farm, we asked Braam Smith of Bergsig Boerdery a few questions about his experiences during the trial period of three months:
Did any variation of flow occur? It did, to a very small extent and as soon as we flushed the laterals properly it went back to a uniform flow rate.
Did any blockages occur? No blockages, we suspected blockages when we experienced flow variation. But as soon as we flushed the lines, we realised no drippers were blocked.
Did you experience any bursts/leakages in the dripline? A few, but that was due to pressure valves that were set too high (2 bar +), no leakages of any sort occurred that we could ascribe to quality issues.
What is your impression of the dripline? I was a bit sceptical at first because of the wall thickness, but three months down the line I could honestly say that the I am very impressed with the performance of these driplines. The uniform water application contributed greatly to fertiliser application efficiency, which in effect meant better and more uniform plant growth and fruit set.
PUTTING STREAMLINE™ X TO THE TEST
Netafim South Africa is often involved in on-farm product trials, whether it is to test agronomic principles or product developments. One such trial, was a recent trial of Streamline™ X thin wall driplines on peppers at Bergsig Boerdery in Komatipoort.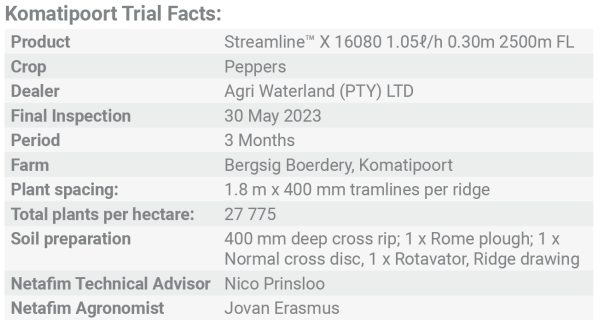 In his report following the final inspection of the trial, Nico Prinsloo, technical advisor for Netafim South Africa in Mpumalanga, North-West and Gauteng, writes: "Drip has been installed and under pressure for three months, and the results are as good as always."
The water source for irrigation of the peppers is a dam with the suction hose two meters from the top. "This means that a large amount of organic material still enters the irrigation system. The team on the farm had to flush the driplines once a week to ensure that the organic material that passes the primary filtration does not settle on and, in the dripper, causing it to clog."
"In cases such as this, it is especially important to flush driplines correctly with a significant pulse motion to make sure all the organic material clogged inside the dripline is flushed out. It is also important to make sure that there is enough pressure to flush the driplines properly,"
An important part of the final inspection is cutting out and opening drippers to do a physical inspection. Prinsloo reported that there was no indication of clogging in the flow path or the filter of the dripper. Prinsloo adds that, when flushing the dripline, chunks of organic materials were flushed out. This is material that did not end up in the dripper, which means that the dripper's filter is doing its job.
DRIP ON VEG!
Drip irrigation has proven itself to be the most efficient irrigation method and is suitable to most crops. More and more vegetable farmers are turning to this method of irrigation to increase vegetable yield quality and quantity.
Drip irrigation provides both the control and the flexibility needed to ensure that each plant receives the exact amount of water and fertiliser it needs. This will maintain balance between vegetative growth and productivity, an extremely important aspect of vegetable production.
It may, however, seem like a too advanced solution for a short-term cash crop. The fact is that there are drip irrigation solutions perfectly suited to seasonal crops and single or limited season implementation.
Benefits of drip irrigation on vegetable crops include:
optimal root zone management;
lower water and fertilizer use;
access to the root zone despite groundcovers;
lower risk of crop diseases;
full utilisation of available land;
optimal growth in challenging soil;
minimised evaporation loss;
ability to better manage plant nutrition through fertigation.